Artist Robin Eisenberg Takes Sexy to Intergalactic Heights
Artist Robin Eisenberg Takes Sexy to Intergalactic Heights
Solo astro-travelers cozy up in starship chambers and explore alien terrains in artist Robin Eisenberg's sci-fi pulp and video game-inspired otherworld. Elsewhere, mermaids lie on their stomachs to Netflix and chill, with glittering scales taut over pert bottoms and whilst you never quite know if you're underwater or in outer space on her planet, it seems to make curious sense. And it's this trippy and disorienting quality—in all its harlequin splendor—that's attractive as much as discerning. As the artist concurs—dystopia is something we are fascinated by: it's normalcy versus the imagination, like a thunderstorm experienced from indoors or a horror film which make us feel cosy and disarmed in equal measure.
"Maybe she's born with it… maybe she's a luminous spheroid of plasma held together by her own gravity," Eisenberg told the Twitterverse last year. A millennial plough through the stratosphere, a cosmetic cosmic blurb if ever there was one. "I got that Maybelline line in my head a lot," she muses when I bring that tweet up during her talk with Playboy. "And I zoomed into the woman I was drawing's open mouth, and the dictionary definition of a star was 'a luminous spheroid of plasma held together by its own gravity' and thought that was epic." Eisenberg's 2D superheroines, in all their cyber-plasmic glory—never shy of cleavage, midriff, ass and thighs—are distinctly recognizable to her 350,000 plus social media followers.
What's marvelous to Eisenberg—a jazz-schooled indie musician turned illustrator—is not relegated to racy purple honeys with sumptuous bodies and third eyes alongside goddess-with-child pin ups. She's depicted everything from Drake and Rihanna canoodling, the Stranger Things cast, and plenty of other winking, blinking familiar faces. The Californian native can only be described as a feminist astrophile with a bountiful Sharpie collection.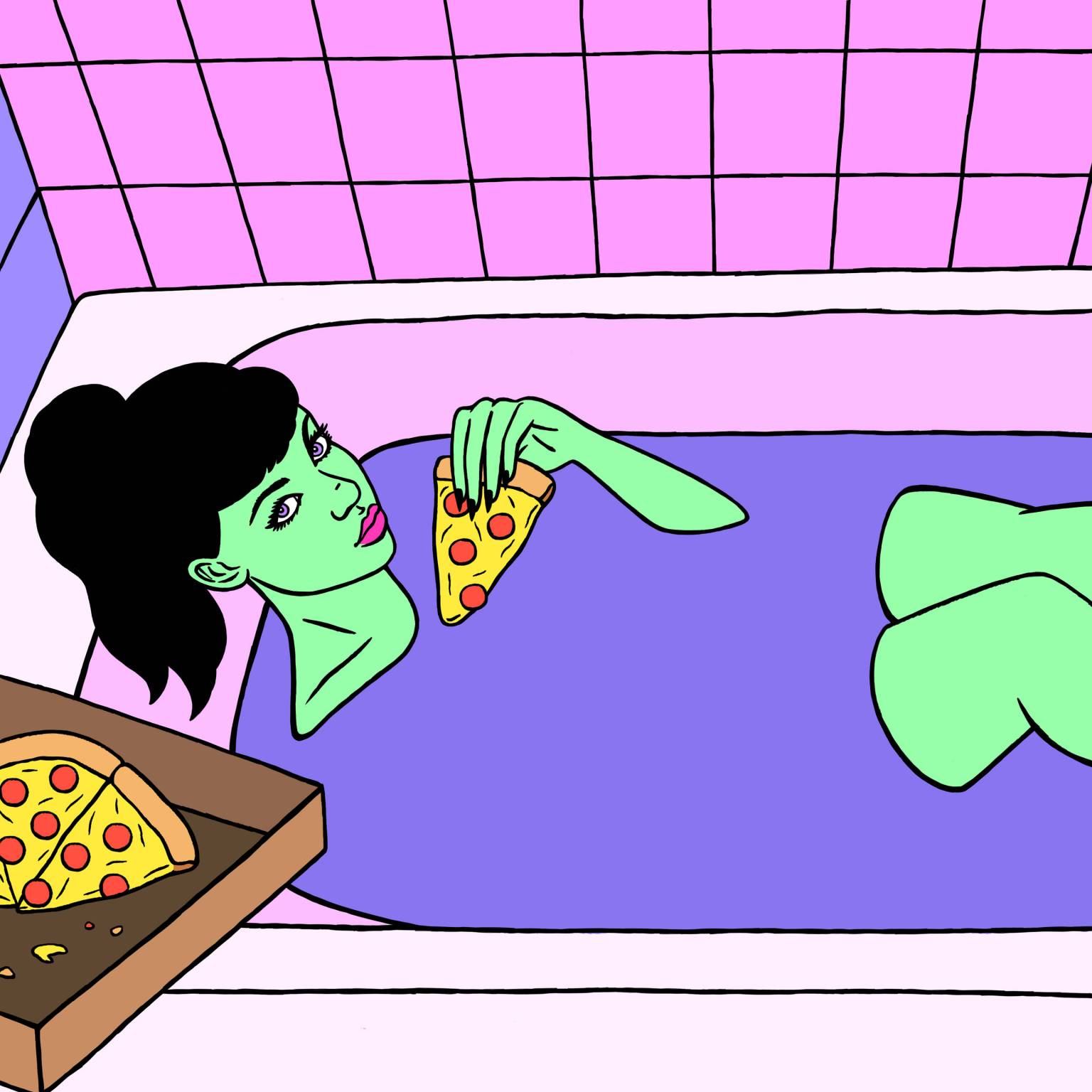 It was a childhood of Star Trek, classic comics and video games—not to mention a smattering of cyberpunk glory via cult movies like Hackers and The Net—that made space feel like home to the artist. What was monochrome onscreen for fans in earlier decades became "such an expanse" to her. "The color that does exist becomes so awesome, in the literal sense of the word," Eisenberg furthers. This exposure had followed and still follows a fierce interest in sci-fi pulp; an endless scope of covers that traverse characters as bold as the spectrums they bring to life.
Eisenberg's fascination for sci-fi and fantasy go way back. Even as long ago as 1920, when the era of sci-fi pulp fiction ruled with kitsch covers to match. "As well as dressing up for many an occasion, I collected swords and knives and went to Medieval Times for every birthday. I loved cover illustrations that featured these super intelligent and tough women who fought battles and worked magic and ruled countries and rode dragons, then Neil Gaiman's Sandman and Elfquest by Wendy and Richard Pini," she says. After comic books, the graduated to a steady diet of Mercedes Lackey, Monica Furlong, Ursula K. Le Guin, Diane Duane and Patricia C. Wrede.
With her inspiration in mind, its no mistake that the beauties she portrays live on spaceships, but the quarters etched are often luxurious for a reason—it's the setting she dreams of living in. "I've always wanted to live on a starship and have my room with the starry windows and the hum of the ship and the endless choices of music on command and all of the fancy lighting options." She goes on, "I think there's something about having a place to yourself that is kind of self-sustainable, but that is also moving and going to new and unexplored places.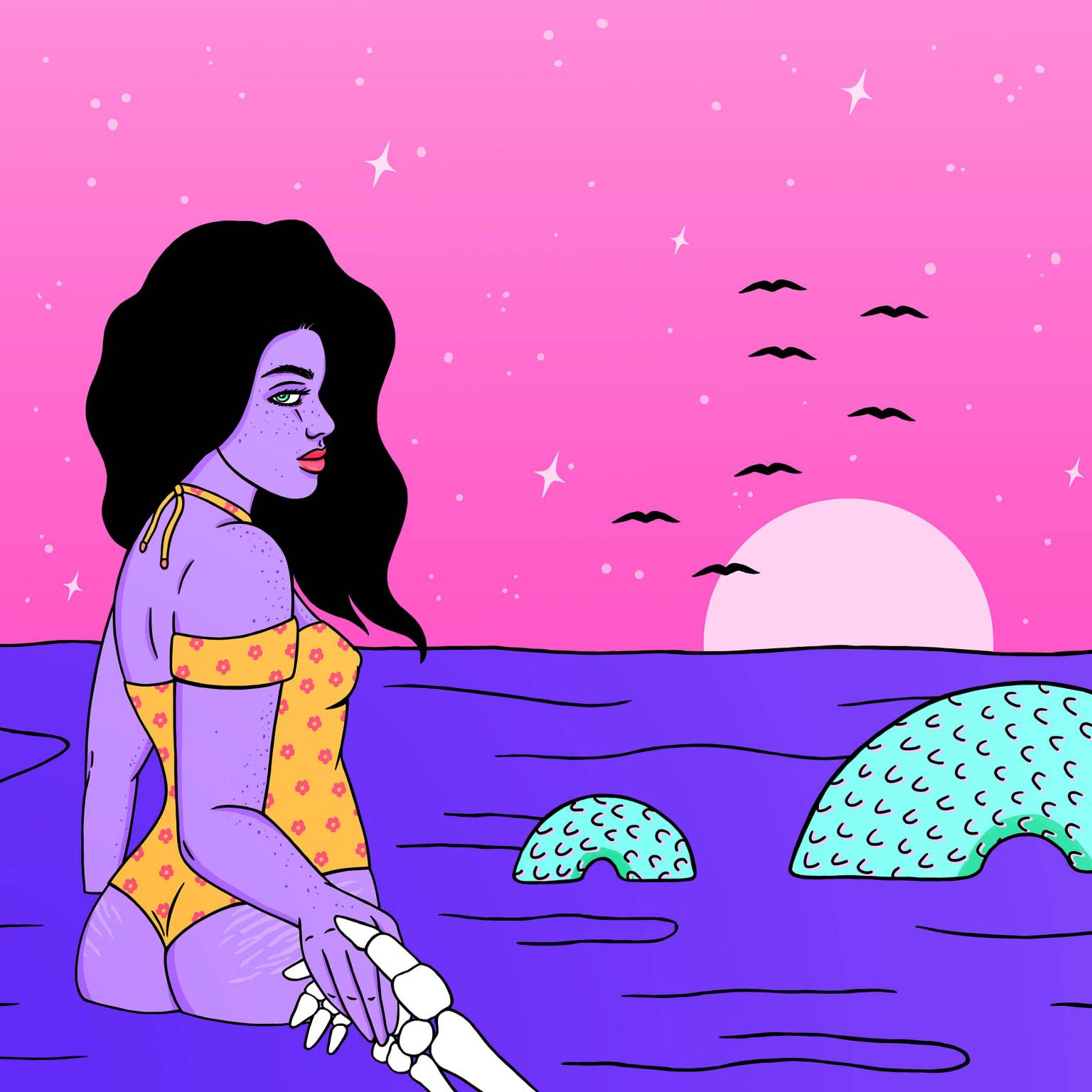 "It's that feeling of something familiar combined with something strange." As someone who has moved around a lot, this figures. Eisenberg moved from LA to Europe by default as member of the band Crocodiles around 2010, before settling in Berlin, a melting pot of sexual fluidity and autonomy. It was here she began to draw. "I've always felt comfortable discussing sex, but Berlin definitely allowed for more expression."
There, The Slits' Hollie Cooke had her draw album covers featuring feisty alien women who became the independent, weird, beautiful freaks which are now her insignia. The supernatural subjects are often traveling alone and that's what makes them beautiful. Alone-but-not-lonely; freaky, unapologetic female protagonistshave stayed with her since her costume days. "Solitude without loneliness holds a very special and important/irreplaceable place in my life," she muses.
And purple are so many of her figures colored in purple? It's a color that can be received as powerful, sexual, regal and transgressive all at the same time. "There are certain colors in nature that always make me feel very awake and alive, and I love that feeling. Sunset colors, twilight colors… greens of all kinds." The color purple can also be interpreted as magical and Eisenberg is no stranger to magic. "I was briefly part of a coven in high school and I love learning about herbs and rituals, the history and imagery that comes along with astrology. I think that you can glean wisdom and insight from any source regardless of your certainty or uncertainty over its validity."
Whatever they're up to, having her women predominantly purple, green and anything in between is a true purveyor of women of color—a wide diaspora. In the world she's created, inspired by faces like Janelle Monae and Prince, when it comes to the sex industry and objectification she would want to see "a somewhat sparsely populated, lush planet where people would try their best to be respectful, tolerant and generous towards one another. There would be an even balance between thriving nature and advanced technology. All genders would be on equal footing and
sexuality would be enjoyed
, celebrated, and never shamed. People would feel comfortable and good about doing anything so long as it was done in a consensual way."If only such a universe existed beyond her imagination. Thank goodness for escapism.