8 Chill Threesome Positions for You and Your Bestie.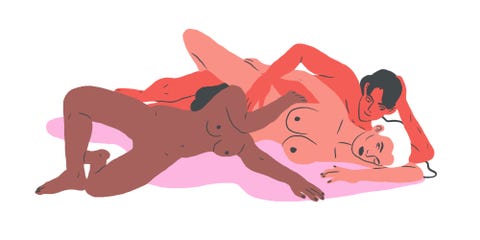 Everyone gets a fine-ass view if you arrange yourselves thusly: M enters you from behind, your upper leg draped back and over their hips. The other F lies on their back so their V is within kissing distance from your mouth. You can watch each other, and your bestie is tasting distance away.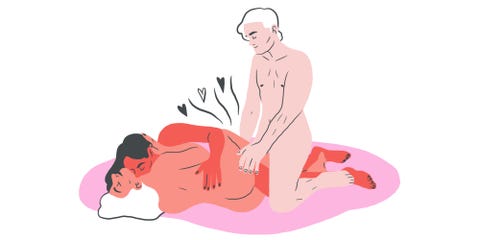 Lie next to each other and make out while the man kneels between you, fingering you both with extra-lubey hands. As you go deeper into it, you can create a superhot sexy synergy where it's just moans and sensations.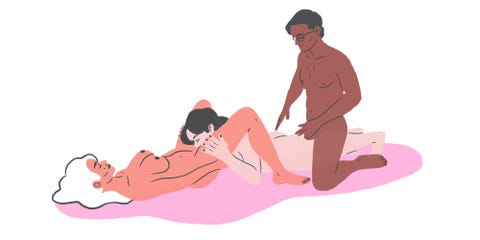 Fulfill all kinds of lifelong fantasies at once by going down on your friend. Your male partner can easily apply a hand or buzzy toy to you as they stroke themselves, all while auditing the finest master class in oral they will ever behold.
4. 
The Best Kind of Sandwich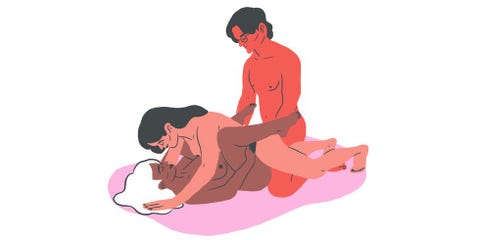 The position version of perfect jeans—basic but versatile enough to work with anything. Lie on top of your friend. Penetrate them with a strap-on and put a vibrating toy between you or go analog and just rub together, using fingers as needed. Your M kneels between your legs and picks a hole to enter. Use it as a template—switch out the M with a third F (with or without strap-on), put the guy in the middle if they're into anal penetration, have the M work on the Fs orally, or whatever your three kinky little hearts desire.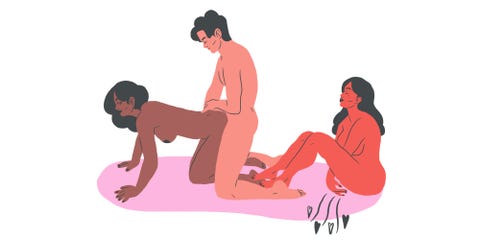 If you're a first-timer, start in a scenario that allows you to observe before joining in. Doggy is great if you're super shy because it's easy to hide behind them and watch. Use a hand or toy on yourself and, when/if you feel comfortable, reach over to squeeze some boobs, feel the M's penis as it slides into the F, or jump in and take their place.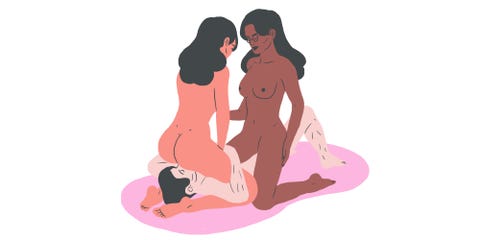 This is an MFF classic—it's not too tricky and no one feels left out! The M lies on their back while one F mounts their penis and the other sits (lightly, it's more of a hover) on their mouth. The two Fs can smooch and play with each other while the M basks in the very thing they've been fantasizing about forever. Switch with the other F every once in a while, high-fiving during trade-off optional.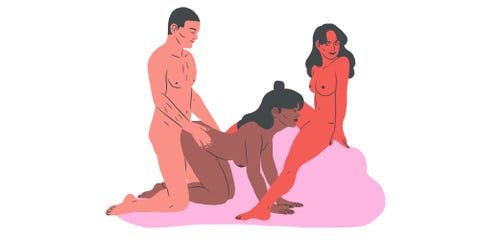 If a spontaneous threesome breaks out in the living room, have your third sit on the couch while you get on all fours in front of them for some oral love. When your M is ready (in probably two seconds), they kneel and take you from behind. It's extra good because everyone gets something and your F feels each of the thrusts via your mouth.